Article Contributed by Patrick Young
The Maryland Assistive Technology Program does not endorse any products or services mentioned in this article.
Why People With Disabilities Should Consider Using Technology in Their Careers
Approximately 1 billion people worldwide have hearing, cognitive, speech, visual, or mobility disabilities. Despite anti-discrimination and equal opportunity laws, people with disabilities face various challenges when seeking employment or progressing in their careers. That's because most working environments and policies aren't designed with them in mind. Fortunately, technology can rewrite all these challenges and make working environments conducive for people living with physical or mental disabilities.
Technology is vital for people living with disabilities looking to get into the career world or advance in their respective career fields. Today, several assistive technologies, such as ergonomic devices and mouth keyboards, are affordable and readily available. Here are some ways people with disabilities can use technology in their careers.
Remote Working or Learning
Traveling is a significant impediment if you're a person with disabilities because you may require special equipment, facilities, parking, or communication tools. Some of these requirements may result in difficulties securing employment since the accommodations you need may not be readily available. Fortunately, with technology, you can work or study comfortably and create a tailored workspace suitable for all your needs. Remote working and learning effectively enable people to judge you based on your work quality instead of unconscious bias.
Networking
Networking is vital when looking for a job. However, it may not be easy if you're a person with disabilities since networking may require traveling or casual interactions, which may be difficult or impossible for you.
You can take advantage of platforms such as LinkedIn, which are instrumental in connecting people with potential employers. Such platforms enable you to network more easily with little or no exposure of your disability. Ensure your profile is well updated by having a clear profile photo and explaining your expertise. You can also opt for the premium LinkedIn version, which allows you to message people directly and see people visiting your profile.
Digital Entrepreneurship
New possibilities for digital entrepreneurship continue to arise as technology advances. If you're into digital enterprises, you have the opportunity to meet and interact with clients online, selling your goods and services across borders. For instance, you can use mobile applications for financial transactions or supplier diversity programs to access markets.
Job Hunt
The internet can be a resource when looking for a job because multiple remote work options are available nowadays. According to research, approximately half of Americans will work remotely by 2027. When applying for remote jobs, ensure you stand out by clearly stating your expertise on your resume.
As time goes by, you continue to gain new skills and work experiences, and you must ensure your resume is updated with your latest achievements and skills. If your resume is in PDF format, you can use a PDF editor to upload your document online, make the changes, and download and share it with potential employers.
Bottom Line
Despite the career world being tough for people with disabilities, technology is making it easy for them to find befitting jobs. With technology, you can network and work online from the comfort of your home. If you're a person with disabilities, visit NATADS, an assistive technology portal that allows you to borrow, buy, or sell assistive devices that you can use in your job hunt or to advance your career.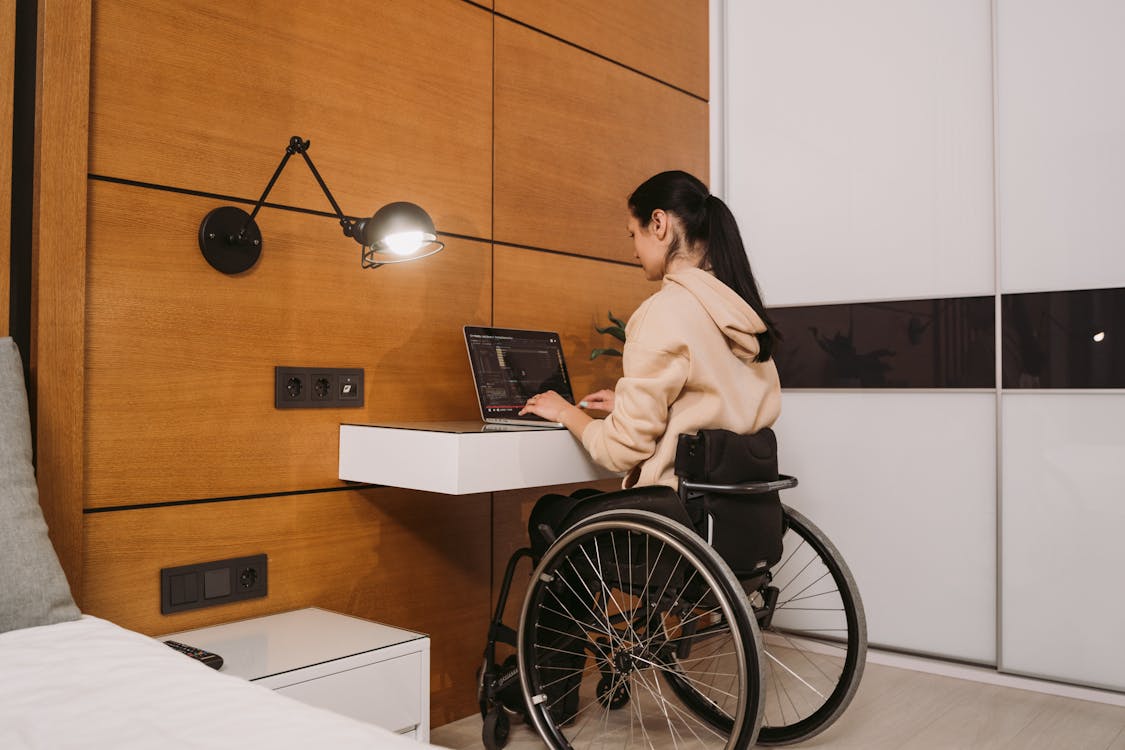 Image via pexels.com