Contributed by Elijah Dawson
The Maryland Assistive Technology Program does not specifically endorse the programs and technology listed in this article. To schedule a free Assistive Technology Consultation, please contact us at mdtap.general@maryland.gov or call 410-554-9230. Visit us at www.mdtap.org to learn more about our services.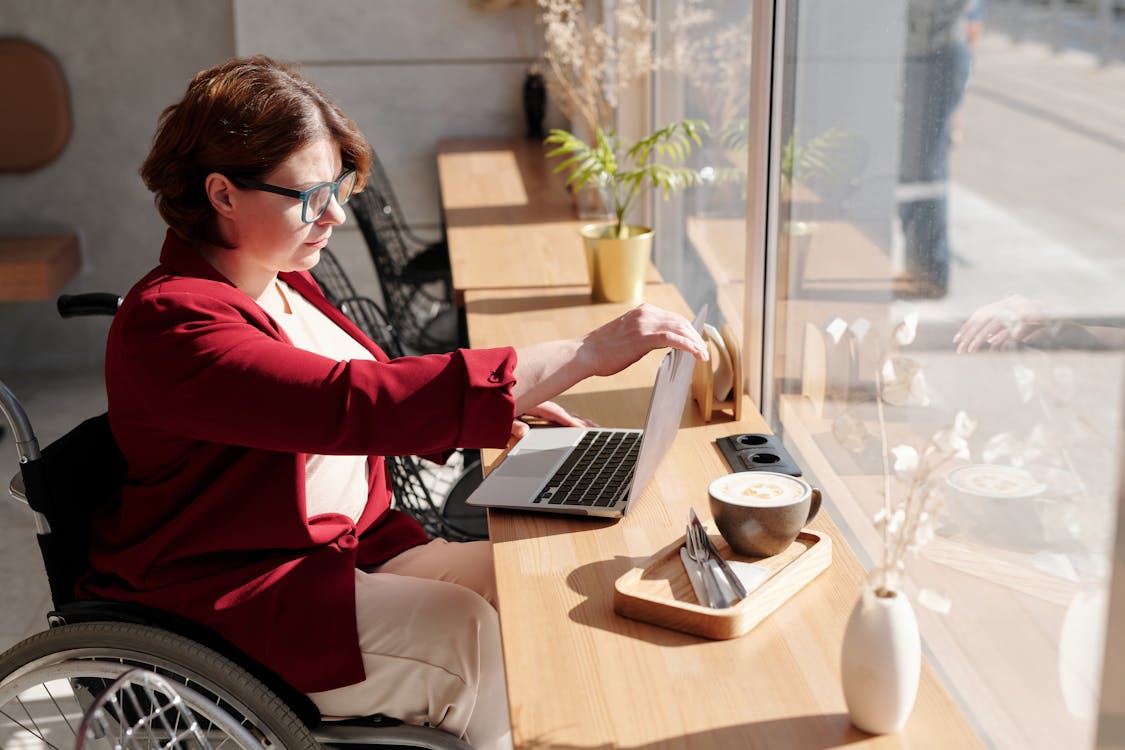 Top Tips to Help Individuals with Disabilities Use Technology to Promote Career Success
With so many changes happening at lightning speed, the world of technology can be mind-boggling. But it's worth slowing down and taking a hard look because modern tools can help simplify tasks, enhance access to services, and streamline daily life—especially for people with disabilities. Regardless of your skill level or disability, the Maryland Department of Disabilities shares these technology tips that can help you to advance, expand, and remove barriers to your career.
Advance on Your Career Path with Confidence
Continuing to hone your skills is an excellent strategy for progressing in your career. Luckily, the days when long commutes and sitting in a classroom were the norm are far gone. Today, anyone can attend college or enroll in supplemental courses from home via their smart devices. Even if your career path doesn't involve a four-year degree, you might find that certifications or online seminars are the perfect fit for rounding out your professional skills.
Colleges & Universities
Remote learning for career advancement may involve a structured college degree. Virtual university programs are a solid option for many online learners. You can earn an associate's or bachelor's degree, or even an online master's degree if you meet the prerequisites for acceptance into accredited university programs.
Don't let expensive tuition stop you, either. There are countless scholarships for adults with disabilities, including government grants, state-based scholarships, and more.
Online Courses & Certifications
Low-cost courses also offer real-world lessons and perspective without a high up-front cost. For example, learning about any topic imaginable is easy and cheap with platforms like Udemy, where classes start at $12.99 (but often drop lower with promotions and special offers).
Even Harvard University delivers free online courses via edX on topics ranging from Digital Humanities to Finance and even Entrepreneurship. If you utilize the free course, you won't receive formal college credit, but you can still cite class completion on your resume or professional profile.
Career Coaching
One-on-one career coaching can reignite your passion for your professional life. Inspired coaching helps you explore (and prepare for) new opportunities—or set out on your own if that's what speaks to you. Video chatting also makes meeting with your career coach easy and convenient.
Start a Business
If you can't quite find the right job for your abilities and passions, consider starting your own! There are many resources, including online start a business guide books that can help you to determine the type of business you want to create. These guides can also show you how to write a business plan (a very important part of the process), select a strong business name, and register your business in the state where you live. Then, let your passion – and your strategy – form as you begin to build your business and your brand..
Expand Your Professional Horizons (Independently)
Career growth is always a desirable goal, but what if your current path isn't what you envisioned? Whether it's dealing with a challenging work environment or simply that you're stuck in a workplace where your skills are undervalued, there are alternatives to traditional career paths.
Working at home is one way to skip many stressors of the traditional work environment, notes NPR, especially if your disability presents mobility challenges. From skipping a commute to being able to save money on eating out at lunchtime, telecommuting or choosing other home-based business opportunities could be the key to a long and successful career.
If you're exploring ways to work via home, technology provides plenty of options. Work-at-home jobs accommodate people of all abilities and talents, and your choices include everything from customer service to data entry. Consider these technology-supported niches for your next job search:
Virtual assisting: You perform tasks for businesses as an administrative assistant, but remotely from your home.
Customer service via phone or video chat: You handle customer calls and resolve billing issues, sign people up for service, and more.
Data entry: Many companies hire data entry workers to collect and organize information.
Writing: Freelance writing spans all industries and niches, or you can explore writing eBooks that you upload directly to sites like Amazon for quick sales.
Coding: Learning a coding language allows you to create programs, apps, and more for businesses or individuals.
Translation: Whether you speak multiple languages or are fluent in American Sign Language, translation could be a solid career choice. Live translation services could also be ideal for those who are bilingual.
Social media: Being able to navigate social media and develop a devoted following is no easy task. If you have influencer abilities, you could monetize that skill by posting on social media pages for big brands that pay for likes, followers, and subscribers.
Many other jobs can be done from home, too—everything from sales to product assembly to teaching can happen from your living room or home office. Just be sure to watch out for work-from-home scams while surfing the web for your next opportunity.
Once you've targeted work-from-home opportunities that fit your skill set, it's time to put a resume together to showcase your skills, experience, and achievements. You can create an impressive and appealing resume by using a free resume builder. Choose a template, edit in your content, and share via your preferred format.
Employ Assistive Technology to Simplify Tasks
No matter what type of disability you have, you already know that many aspects of business cater to non-disabled people. Indeed, many companies don't seem to consider accessibility, whether it's their offices, processes, or technology. While there's no widespread solution to pushing organizations toward inclusivity, assistive technology can help bridge the gap. Check your local library and government offices to see what accommodation tools and services they may provide.
Consider these tools to streamline your work tasks and eliminate barriers:
Speech generating devices: Speech generating devices have come a long way in the last decade or more. While many standalone speech devices are available, modern technology also offers a range of apps and programs professionals can use on their work or personal devices.
Screen readers: Screen-reading devices make websites accessible for people with low vision, notes the Bureau of Internet Accessibility. They achieve this by reading the text aloud and describing images, too.
Voice assistants: Your voice companion—whether it's Alexa, Google, Siri, or any other—can arrange your calendar, call colleagues, save important information, and set reminders for tasks. People of all abilities can use voice assistants for a range of scenarios, both at work and home.
Voice recognition software: While voice assistants can be standalone devices or operate from your smart devices, voice recognition is also available for computers. You can operate your device hands-free.
Productivity apps: Regardless of your disability, a productivity app can be a godsend when it comes to managing your time and meeting deadlines. Good Housekeeping recommends apps like Todoist, Trello, Evernote and several others.
Miscellaneous tools: In addition to productivity apps, look for other digital tools that can help you stay on track or expedite sending deliverables. Toggl Track is a great tool for tracking your time, and Google Suite's business version comes with a host of features that can bolster your efforts.
While everyone experiences challenges in the workplace, professionals with disabilities often encounter bigger barriers to success. Whether a lack of accommodations make it hard to navigate your daily workflow or you need an opportunity that permits working from home, these technology solutions can support a path forward.